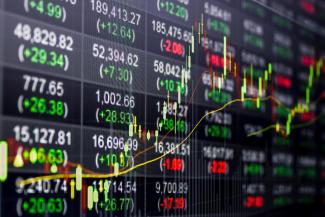 By Jeffrey R. Karp, CLU®, ChFC®, CASL®
I was watching a Wimbledon tennis match the other day and the commentator was talking about the strategy of one of the players.  While many players take an aggressive approach when playing points, they said, this player plays a strong baseline- defense strategy, looking for targeted opportunities to go to net, on offense..
It occurred to me that I may have stumbled upon a good way to describe my current strategy.  With so much up in the air for our economy-- trade negotiations, federal reserve policy on interest rates, wage pressures(inflation) not to mention the non-economic election cycle,  my portfolio allocation strategy  has been to "play strong defense with targeted opportunistic offense".   As with a tennis match, know your opponent and play accordingly is the better plan.  I believe that caution is the best way to preserve wealth, at this time.
Strong Defense- Opportunistic Offense- To address economic cycle. Our economy is very  strong, but demands a cautious approach because we are in overtime for this period of expansion.  What is a fair valuation for a good company?
Strong Defense-Opportunistic Offense- To address Trade.  Will the new NAFTA agreement be approved? Where will the China talks lead? How about North Korea?
Strong Defense-Opportunistic Offense- To address Election Cycle.  18 months of messaging bombardment for candidates.  How will the markets react?
Strong Defense-Opportunistic Offense- To address weakness in European country economies. Will they ever move back to expansion mode?   Will foreign leadership stabilize?
In a recent article, an economist was predicting only a 3-4% average rate of growth for the stock market over the next 12 months.  If true, it may be that Strong Defense – Opportunistic Offense and an active management approach are the only thing that exceeds market averages.  Time will tell, but for now, we believe that there is more general downside risk to the markets than upside potential. We also believe that tactically, selective opportunity can be found, but a broad, passive approach may not yield the biggest gains.     
 To quote Warren Buffett---
"The stock market is designed to transfer money from the active to the patient... We don't have to be smarter than the rest. We have to be more disciplined than the rest."  
Content in this material is for general information only and not intended to provide specific advice or recommendations for any individual.  Securities and Advisory Services provided through LPL Financial, a Registered Investment Advisor, Member FINRA, SIPC.