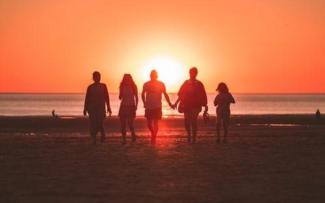 The events of the past couple of weeks has created one of those "stop and think" moments that life seems to put in our path.  First, the tragic accident that took the life of 41 year old Kobe Bryant (along with 8 others), then the announcement that Mary Higgins Clark-author- age 92, had passed away (of natural causes) and most recently, the announcement by Rush Limbaugh of his advanced lung cancer.
What is my "stop and think" message?  Ask yourself- what is a life worth? What is your purpose?  
Each of the above referenced individuals accumulated "big" material wealth, due to their success and each had impact on the masses. As time goes by, who, in those masses of people will care.  I mean, maybe a couple of big games by Kobe, a particular novel by Mary or a political campaign that Rush talked about, but it is only the people closest to you that really carry the impact of your life forever.
Stop and think for a moment what true wealth really is for you. Is it what you own? Or is it the people you touch and the experiences you have along the way?  In a world where wealth accumulation is the driver for the jobs we take, the things we buy, and in a lot of cases, how we feel about ourselves, I offer two examples to balance that society pressure.  
First, the other night we had my 91-year-old mom over for dinner and a lot of what she wanted to talk about was her current medical issues.  What made her feel the best was that we listened, cared and was there to support her.  Yes, in our busy lives, going to doctor appointments is not the most fun we could have but to see her light up, just knowing she mattered was worth its weight in gold.   
Second, I got a call from the son of friend of many years, age 22 and just starting his career. He wanted to learn about how to handle his money, how to make credit and investing decisions, and how to avoid making bad financial decisions.  He closed his request with this statement- "I would like a mentor that I trust".  Again, what is the measure of true wealth."
Each of us, in our own lives, have these opportunities, as, I am sure, Kobe, Mary and Rush did.  Who will really feel the impact of their lives?  Who will really feel the impact of yours?
Content in this material is for general information only and not intended to provide specific advice or recommendations for any individual.  Securities and Advisory Services provided through LPL Financial, a Registered Investment Advisor, Member FINRA, SIPC.